There is no day where a woman wants to more to feel the most beautiful version of herself than on her wedding day.
~
Relax in the comfort of your home or venue on your wedding day and enjoy being pampered with Love Moi Makeup, who will ensure you look beautiful and feel amazing by providing bespoke, personalised and considered makeup artistry for your day.
Following your makeup trial, which will be between 4 and 12 weeks before your big day, you'll be able to enjoy your wedding preparations knowing that you are going to look exactly how you always imagined you would.
Emily has helped hundreds of brides prepare for their big day over the last 7 years and has enjoyed every wedding she's been lucky enough to be a part of. Every wedding and every bride is different, and embracing and celebrating that individuality is what weddings are all about - your makeup will be a reflection of your style and personality too.
As well as enjoying the gorgeously transformative results of a professional makeup look on your big day you'll want to ensure your girls look and feel their best, too.
mother of the bride / groom
Pamper your mum, treat your mother-in-law and ensure everyone in your party feels amazing along with you!
I can help mum feel fantastic with techniques to enhance mature skin, especially if she doesn't like wearing too much makeup!
extra SPARKLE on YOUR BIG DAY
WITH THE LOvE MOI GLITTER BAR
price list
Bridal Makeup including Trial | £180
Additional Initial Bridal Pre-Trial | £80
Bridesmaid Makeup | £45
Bridesmaid Trial | £40
Mother of The Bride/Groom Makeup | £45
Mother of Bride/Groom Trial | £40
All Day Makeup Service | Price On Application
Prices include false lash application, either individual or strip, 20 miles of travel to and from your wedding venue, and 20 miles to and from your trial location. Beyond this additional travel costs from NR12 are applicable of 50p/mile.
For larger parties, or early ceremony times an assistant may be required. This incurs an additional cost dependent on requirements.
Trial appointments will be available from Monday-Friday. Weekend appointments are only available in exceptional circumstances where agreed in advance and may incur an additional charge.
Booking conditions apply, so please read my terms carefully.
Are you ready to secure your date? Fabulous!
Megan | PRETTY PINKS
Lily | SMOKY GLAM
Alicia | FULL GLAM
Grace | NATURAL DEFINITION
Harriet | AUTUMNAL TONES
Hannah | VINTAGE GLAMOUR
Bek | SIGNATURE GLAM
Carly | PIN-UP GLAM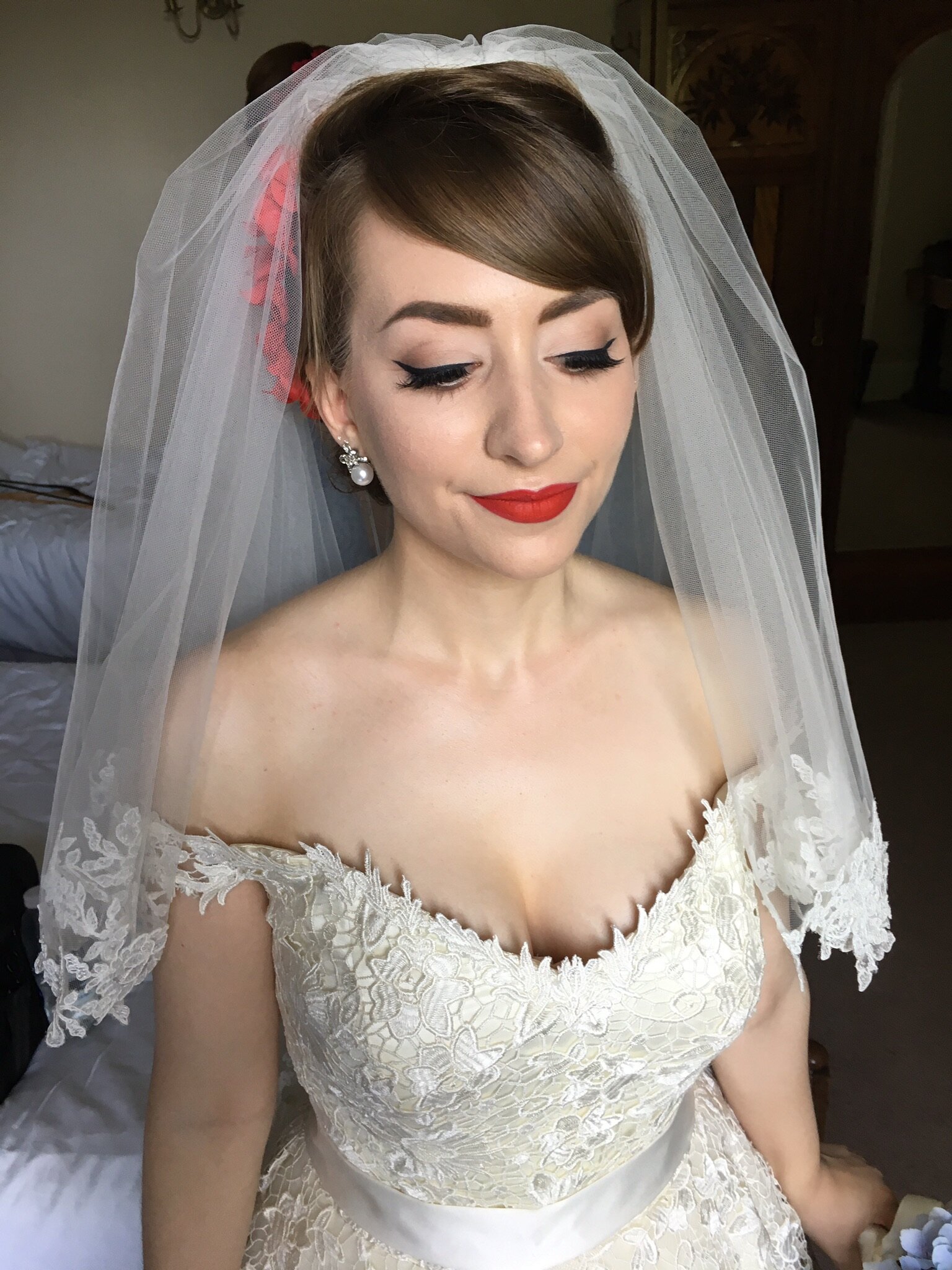 Lita | EXOTIC BEAUTY
Abi | GLOWING + GORGEOUS